PERFORMANCE IMPROVEMENT COACHING
SERVICES
Are you unable to meet your targets?
Are you having difficulty moving to a higher level of productivity?
Do you feel like you are underperforming, and not tapping into your full potential?
Performance Improvement Coaching will benefit you and your company/organization.
Benefits of Performance Improvement Coaching
For the Participant, you will learn to
Be confident about your own skill set,
Determine what is required of you to meet or exceed expectations,
Become aware of how your performance is impacting your company/organization,
Know what team behavior looks, sounds, and feels like,
Deal with professional challenges in a constructive way, and
Focus on priorities, positive action, and working smart for success.
The Company/Organization benefits
from increased productivity
by saving time spent on employee issues and problems
because the supervisor's stress is reduced
as morale improves
as creativity and harmonious problem solving becomes the norm
because employees are motivated to contribute to the company's/organization's bottom line
because relationships improve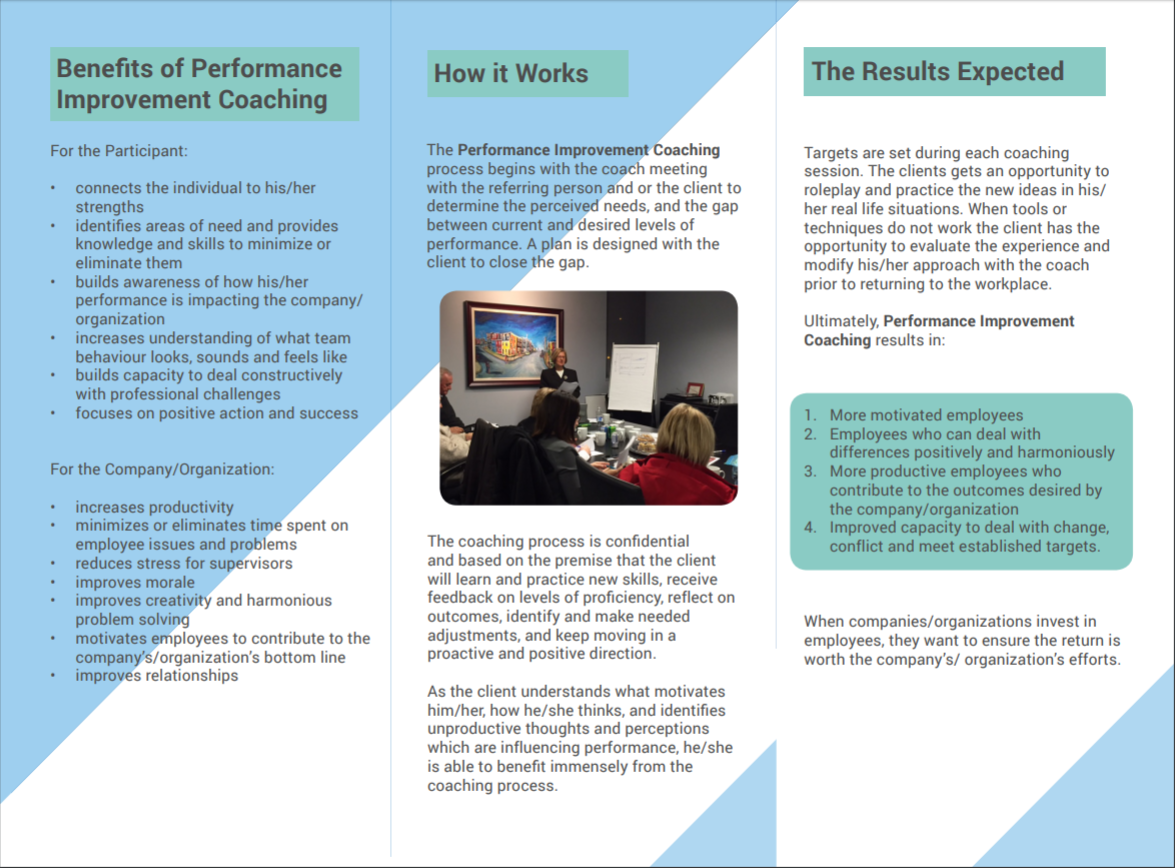 How It Works
The Performance Improvement Coaching process begins with the coach meeting with the client to determine the perceived needs, and the gap between current and desired levels of performance. A plan is designed with the client to close the gap.
The coaching process is confidential and based on the premise that the client will learn and practice new skills, receive feedback on levels of proficiency, reflect on outcomes, identify and make needed adjustments, and keep moving in a proactive and positive direction.
As the client understands what motivates them, how they think, and identifies unproductive thoughts and perceptions influencing their performance, he/she is able to benefit immensely from the coaching process.
Results Expected
Ultimately, Performance Improvement Coaching results in:
More motivated employees
Employees who can deal with differences positively and harmoniously
More productive employees who contribute to the outcomes desired by the company/organization
Improved capacity to deal with change, conflict and meet established targets.
When companies/organizations invest in employees, they want to ensure the return is worth the company's/ organization's efforts.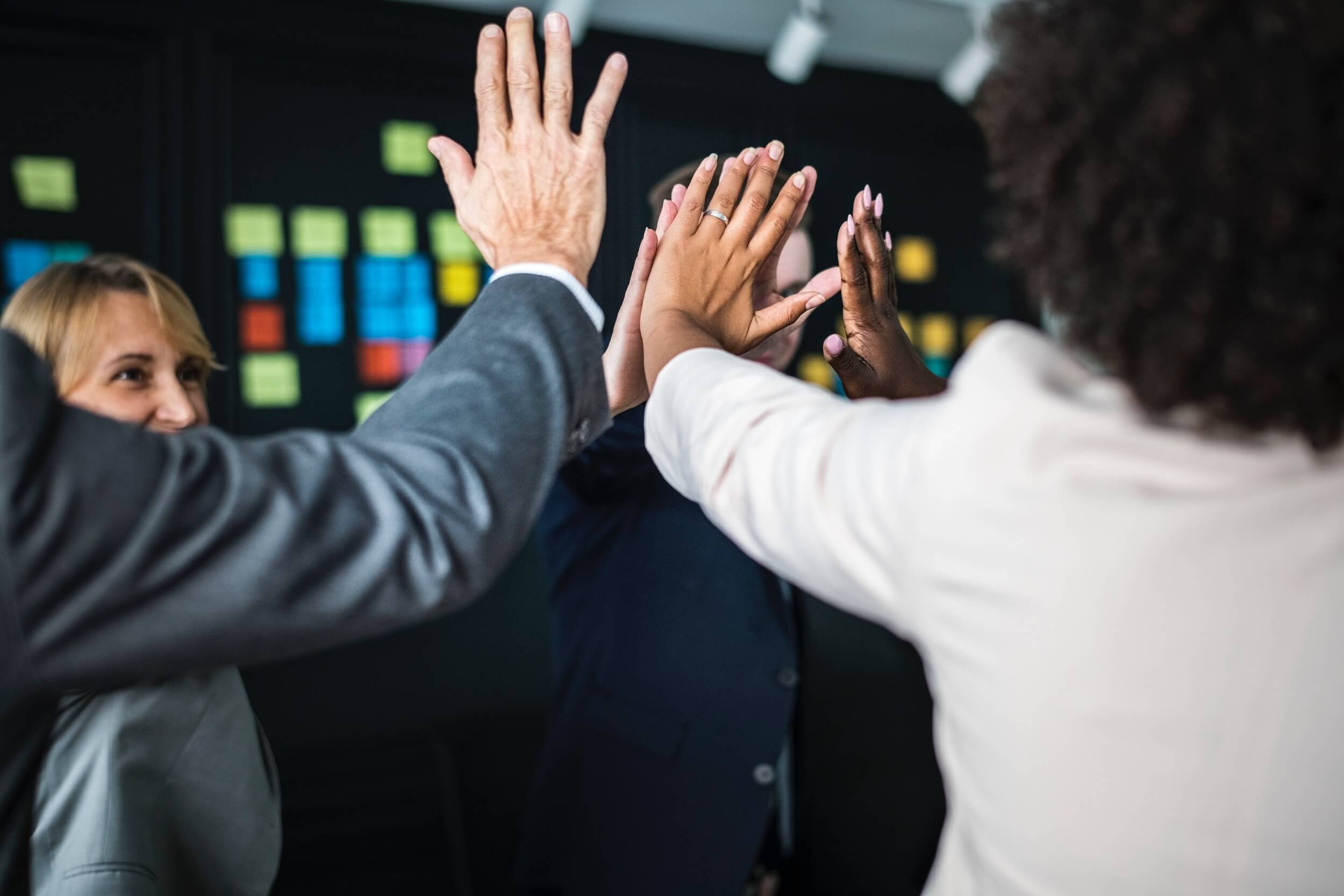 M. B. D., EAP Coordinator
I wanted to pass on very specific feedback on your work with one of our employees. The employee shared that you were able to assess her situation adeptly, and were able to understand and consider her profession and gender issues.
She indicated increased problem solving in all levels and types of communication in the workplace, and reduction in her personal reactiveness and levels of stress.
The employee is now feeling able to consider further steps of intervention from a systemic perspective. 
Thanks so much
T. D., Manager
I became more aware/appreciative of the need to include/consider/address the dynamics of the interpersonal relationship when conducting business. Knowledge and experience by themselves do not trump/veto the need to establish and maintain positive interpersonal relationships.
It has allowed me to become less anxious and less inhibited when working. I am enjoying moment more and worrying less about how/if I am going to get there.
Coaching affirmed for me that with practice, preparation, and commitment I can succeed. My limitations have inherent strengths which can play a part in my success.
REGINA WRIGHT
Thank you for your excellent work in the preparation of the report. It is most comprehensive and your presentations on this Report were excellent.
I learned how my "Gregorc Mind Style" will help me understand my natural way and how to relate to people who have different styles. I know i) what makes a good elevator speech and how to make people want to know more and ii) the importance of having 'offerings' that will give people a choice. I now have a practical way of making sure my business objectives are met.
JULIE KAVANAGH
Dr. Kelleher-Flight's presentation helped us meet our conference goal by providing information to benefit delegates in their respective businesses. We were very pleased with the positive comments on your workshop.